By cnchefs |
05
September 2023 |
0
commentaires
Everything You Need to Know About Kitchen Equipment for Your Hotel Kitchen
Running a hotel is no easy task. You want to make sure that every guest who walks through your door has a memorable stay. And to achieve that, you need to make sure that your kitchen is equipped with the best possible tools and equipment. After all, the quality of your kitchen equipment can make or break the quality of your food. In this blog post, we'll discuss all the essential kitchen equipment you'll need for your hotel kitchen.

1. Refrigeration:
The first and foremost essential kitchen equipment for any hotel kitchen is refrigeration. You'll need a range of refrigeration options – from walk-in coolers to undercounter refrigerators. Depending on the size of your kitchen, the number of guests you serve, and your budget, you can choose the type and size of refrigeration equipment. The purpose of refrigeration equipment is to ensure that your food stays at the proper temperature, reducing the risk of food spoilage, and also increasing the shelf life of the food.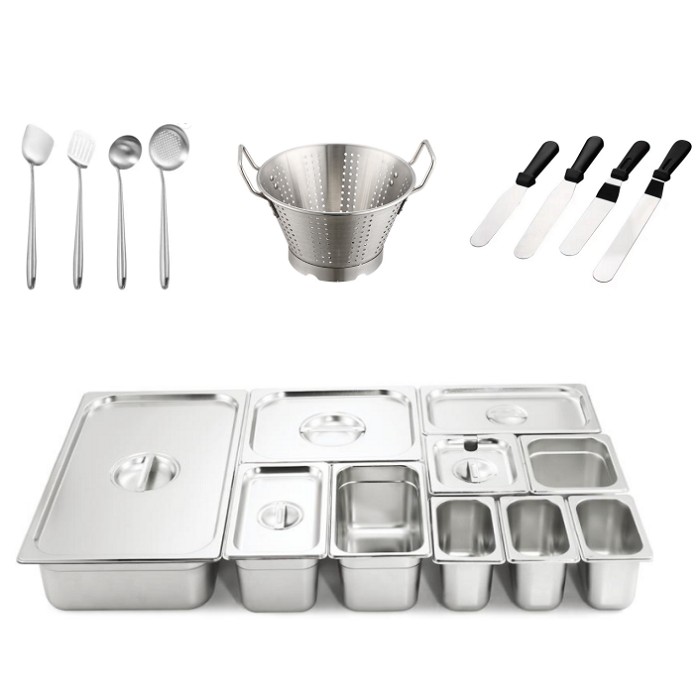 2. Cooking equipment:
The next set of important equipment for a hotel kitchen is cooking equipment. The cooking equipment you require will depend on the type of food you serve. Standard equipment for cooking includes a range, gas grill or charbroiler, oven, microwave, and fryer. Don't forget to invest in pots, pans, and other smallwares. You should also take into consideration the number of burners as well as the size and capacity of the equipment.

3. Food prep equipment:
Food prep equipment is crucial for any hotel kitchen. This equipment includes food processors, mixers, slicers, and choppers. You'll need these tools to prepare all the ingredients before cooking them. Always invest in high-quality food prep equipment that will last you many years and get the job done efficiently.

4. Dishwashing equipment:
Dishwashing equipment might be the last thing on your mind when setting up a hotel kitchen, but it's essential. You need sparkling clean dishes and cutlery for your guests, and dishwashers can help you achieve that. Consider purchasing a commercial-grade dishwasher or a conveyor dishwasher, depending on your needs. Additionally, invest in a dish rack and dish cart to easily transport clean dishes to the kitchen.

There are many other miscellaneous items that you might need for your hotel kitchen, such as serving carts, food holders, steam tables, and storage containers, to name a few. These items are just as important as any other equipment because they make your job easier, efficient and help you save time.

Equipping your hotel kitchen with the right equipment is essential to the success and efficiency of your business. Investing in high-quality equipment is a must if you want to achieve excellence in the quality of food you serve. When choosing your equipment, consider the size of your kitchen, the number of guests you serve, and your budget, and don't forget to factor in the quality and durability of the equipment. At CN Chefs, we provide high-quality kitchen equipment for hotels and restaurants. If you need our services or have any questions, please contact us at Tel: 0086-20-85823483 or E-mail: [email protected].
Laisser un commentaire
Votre adresse e-mail ne sera pas publiée. Les champs obligatoires sont indiqués. *